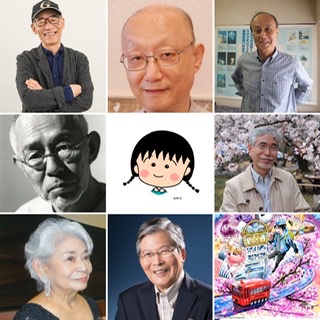 Honored 8 directors including Yoshiyuki Tomino! Tokyo Anime Award Festival 2021 "Anime Achievement Division" decided!
PV is also released!

Illustration: Atsuko Watanabe
At the international animation film festival "Tokyo Anime Award Festival 2021 (TAAF2021)" sponsored by the Association of Japanese Animations and co-sponsored by the Tokyo Metropolitan Government, eight directors, including director Yoshiyuki Tomino, were selected for the animation service category.
The Anime Achievement Division was established with the purpose of honoring people who have contributed significantly to the development of the animation industry and culture. In addition to praising many years of achievements at the production site, we also commend those who have contributed to improving the social status of the animation industry, such as educational activities and international exchange.
This time, in addition to director Yoshiyuki Tomino who created a new era for Japanese giant robot animation such as creating "Mobile Suit Gundam" and acting as general director, Takao Koyama, a scriptwriter for "Dragon Ball Z" and "The Brave Express Might Gaine" , Takeshi Seyama, who has been in charge of editing "AKIRA" and "Gintama", has been selected as eight people.
We are planning to hold an exhibition introducing the award winners and a special program at the TAAF2021 venue in Ikebukuro, Tokyo from March 12th (Friday) to 15th (Monday), 2021, so please look forward to the follow-up report.
The PV of TAAF2021 was also released today on Wednesday, December 9th. In addition to this animation merit category, the video includes a wide range of works gathered at this film festival, such as the previous "TAAF 2020" award-winning films, so be sure to check it out.
Tokyo Anime Award Festival 2021 "Anime Achievement Category"
Awardee
Director: Yoshiyuki Tomino
Screenwriter: Takao Koyama
Edit: Takeshi Seyama
Producer: Toshio Suzuki
Original author: Momoko Sakura
Animator: Shunji Saida
Singer: Kayo Ishu
Voice actor: Michio Hazama
Outline of "Tokyo Anime Award Festival 2021"
Session
March 12th (Fri) to 15th (Mon), 2021
Venue
Ikebukuro, Tokyo
Organizer
Tokyo Anime Award Festival Executive Committee
The Association of Japanese Animations
Co-sponsored
Tokyo
Secretariat
Tokyo Anime Award Festival Executive Committee Secretariat
(Inside the Association of Japanese Animations)