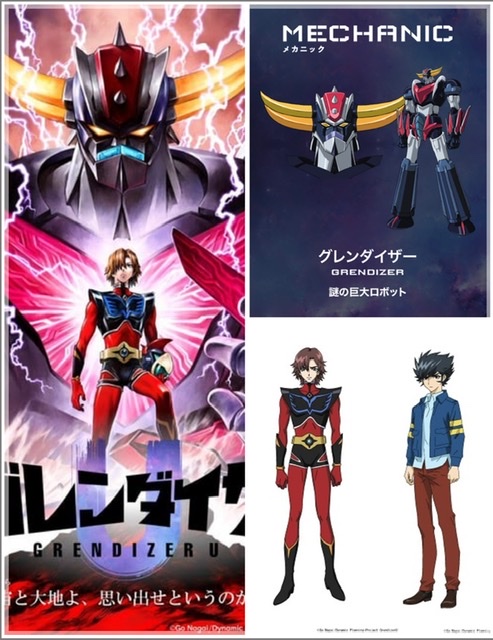 TV anime "Grendizer U" to start broadcasting in 2024 Mitsuo Fukuda as general director, Yoshiyuki Sadamoto as character designer: first official images, preview video and FULL info
"UFO Robo Grendizer", which was born in 1975 and has been loved all over the world for a long time, will be rebooted as a TV anime series in 2024. On August 5, 2023, the production of "Grendizer U" was announced at "I love Natsuhabara Akiba! Festival 2023" held at Akihabara Belle Salle in Akihabara, Tokyo. TV broadcasting is scheduled to start in 2024. At the same time as the announcement, the official website has also opened, and a teaser PV has also been released.
As this new anime series boasts tremendous popularity not only in Japan but also in southern Europe and the Middle East, it is likely to gather global expectations.
A gorgeous staff who lived up to that expectation gathered for this work and appeared on the production announcement stage. The original author is Go Nagai, and the general director is Mitsuo Fukuda, who has produced numerous hits such as "Mobile Suit Gundam SEED" and "Future GPX Cyber ​​Formula".
For character design, Yoshiyuki Sadamoto of "Neon Genesis Evangelion" and the movie "Summer Wars" will be appointed. The character design of Duke Freed and Koji Kabuto, which was released immediately this time, is based on the dynamic character of Go Nagai, the original author, and Yoshiyuki Sadamoto's delicate character. The charm of the old work is rebooted as a design suitable for the present age.
In addition, Ichiro Okochi, the screenwriter, has a reputation for creating sharp stories such as "Mobile Suit Gundam Mercury's Witch" and "Code Geass Lelouch of the Rebellion". The music will be composed by Kohei Tanaka, who has worked on numerous hits such as "ONE PIECE", and staff representatives of the Japanese animation world. Animation production will be handled by GAINA.
"UFO Robo Grendizer" is a robot anime series written by Go Nagai. As a series following "Mazinger Z" and "Great Mazinger" by the same Go Nagai, it was broadcast on TV from 1975 and gained popularity.
Among them, it was particularly popular overseas, in European countries such as France and Italy. It is a popular area for Japanese animation, and it boasts a high name recognition by far. Even now, you can often see Grendizer at local toy shops and events.
In recent years, it has also attracted attention for its popularity in the Middle East. In the Middle East, where Grendizer has been popular since it was broadcast on TV for a long time, the revival popularity is increasing, such as the appearance of a Grendizer statue over 33m at an event in Saudi Arabia in 2022. Involving Europe and the Middle East, Grendizer is likely to take the world by storm in 2024.
TV anime "Grendizer U"
Start broadcasting in 2024
https://grendizer-official.net/
Original: Go Nagai
General Director: Mitsuo Fukuda
Character design: Yoshiyuki Sadamoto
Series Composition/Screenplay: Ichiro Okouchi
Music: Kohei Tanaka