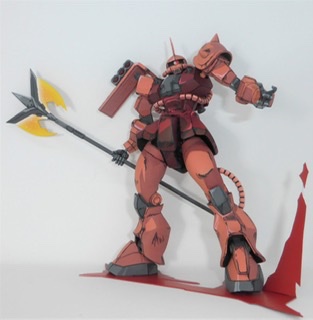 Amazing 1/144 FG/MSV Zaku Masami Obari anime style: many images, info
80's Obari Illustration Style Ballistic Zaku
From the Modeler:
I tried to make it like an illustration drawn by Masami Obari's anime magazine.
Reproduce the burr feeling of the freehand era by cutting and bending
Angled neck, hips, hips, ankles, and elbows
One-axis movable
Incorporating the Yamaguchi-style range of motion of yesteryear, the range of motion is raised at no cost.
If anything, the main body is also two-dimensionally remodeled and then painted with animation.
The expression on the left hand of Obari's painting in the 1980s is a flat hand with a slight par…
The lightning highlights on the shoulders weren't used in the 80's either.
I also made spikes for punching with the surplus FG Zaku's shoulder armor
Using FG Zaku's shoulder joint and Minelayer's knee joint
Create a crotch drawer gimmick and expand the range of movement of the legs
FG Zaku II / 300 yen
Zaku Mine layer 400 yen
Ballistic Weapons 600 yen
Tamiya epoxy putty 400 yen
Total / 1700 yen!
It was a great project and it was fun!
Work by シャネルマン
aka SAKEPA
tsu_ku_ri_jini (on Twitter)