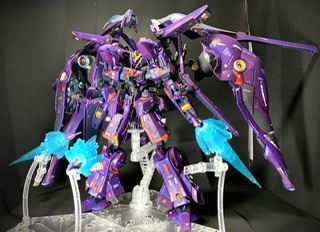 1/144 Psycho Gundam MK5 based on Haze'n-Thley II: Images, info
From the Modeler:
In the first place, the start is similar to Haze'n-Thley II's face Psycho Gundam mk2, isn't it? That is the start.
The initial plan wasn't very rugged, but as soon as the settings were made, it became nice.
The kit used is Haze'n-Thley II, Silver Bullet, Hrududu II, FAZZ surplus parts, Kshatriya, Gundam Unit 6, and the legs and waist armor are putty.
The setting is the average value of Psycho Gundam mk2, Kshatriya, and Queen Manda, but I wanted the size to be a little larger than the initial Gundam.
Work by dobashiki
aka hajime010469 on Twitter