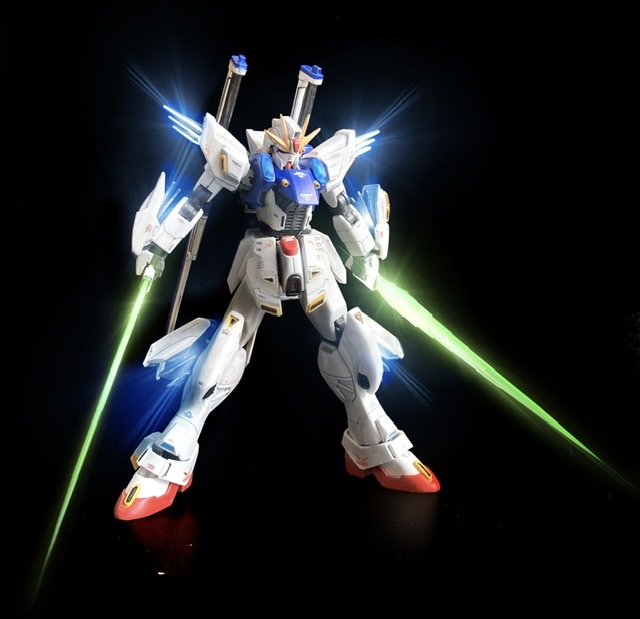 Mixing build HGUC Gundam F91 Slash: full info and images
From the Modeler:
Gundam F91 slash
F91 which was extremely close quarters battle. A MS that enables performance that exceeds the limits of conventional maximum operation.
By omitting the heat exhaust mechanism of the face mask and newly equipping the arms and shins with a heat exhaust mechanism, we succeeded in further improving the performance.
Regardless of the beam weapon, it is possible to easily avoid enemy attacks, so only armed weapons specialized for close quarters combat.
3 steps of normal form → mid operation → maximum operation
Equipped with two mega beam swords on the back of the waist.
Maximum operation mode.
Abolished V.S.B.R. and suspended two swords. Since the energy supplied to V.S.B.R. can be supplied to this sword, a considerable attack power is realized.
Beam shield is inherited for the time being.
initial.
Mix DX arms, legs and head.
It was almost at the stage when the completed form was visible, but it was a long time from here.
I moved it to the head of F91 based on the head of Double X.
Mixing menu and modifications
・ Head and arms, heat exhaust fins, toes, mega beam saber: Double X
・ Large sword x 2, thighs, shins: sword impulse
・ Torso, shoulders: F91
Shave the head of Double X and force it to the face of F91.
Cut the shoulder and reduce by 5 mm.
DX exhaust heat fins are transplanted to the shin of the sword impulse.
Cut various parts of F91 and transplant them everywhere (apron, shoulders, knees, forehead, big sword)
Work by GN TakumA 擬似太陽炉搭載型
aka: TakumA92172561 on Twitter