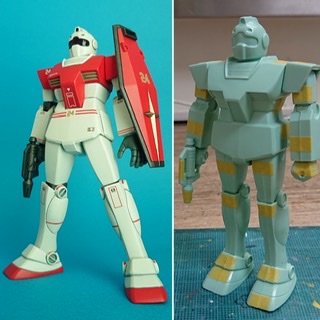 Federal Army mass-produced mobile suit GM: remodeling work from a vintage 1/144 Gunpla. Images, info
From the Modeler:
I made it with an emphasis on style.
The elbow and knee processing is a modification only to make it look good and easy to paint.
Therefore, it is no longer working than the original kit.
As a result, it has become "completely" weaker than normal GM.
I was stunned when I assembled it.
I put my hands on the whole kit, but I cried especially when I remodeled my upper body.
To be honest, I had nausea. lol
The painting is the usual safres, solid painting with a brush.
I wanted to finish it like a 1/100 real type GM, so I searched for something similar from the decals I had and pasted on it.
Work by nikkou_machine (Twitter account)