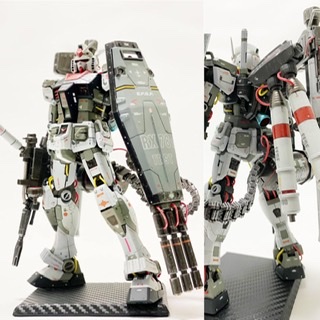 Custom Build MG RX-78-1 Equipment test type: images, info from the Modeler
From the Modeler:
I made RX78-2 ver3.0 a prototype
(RX78-1) and made it under the title of equipment test type.
Bare mechanical settings for testing in various places.
The beam rifle is a test type that has the same output as the main gun of a battleship.
The Hyper Bazooka was also equipped vertically on the back, but since the Vulcan magazine was abolished, it was eventually installed on the waist.
Hyper Bazooka is a vertical equipment type on the back
Setting of exposed mechanism in various places
Triple Vulcan that was not implemented
Prototype beam rifle
Propellant is essential for the prototype MS.
Work by しんきち
shinn41 on Twitter