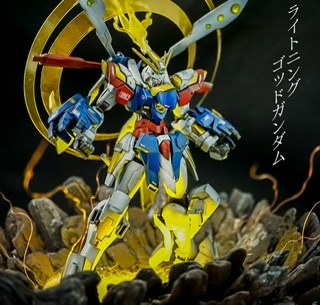 Custom build HGFC Lightning God Gundam: images and full info from the Modeler
From the Modeler:
I tried customizing God Gundam to my liking
front
The name Lightning means thunder light.
Development machine of God Gundam
It is a MS with the ability to attack by electric shock
back
I do not change the rough silhouette, but I make it a changing shape
Energy generator? I put a bead on the wings because I wanted to imagine thunder, but it was a little different from the image.
Hyper mode (no effect)
Since it is extended as a whole, the energy generator of the backpack is also slightly extended and redesigned.
Hyper mode (with effect)
The sun ring is golden like when the water is stopped
Electric energy erupts from the top of the head like hair
Lightning God Finger
Godfinger wearing a powerful electric shock
The back of the hand can be moved up and down with the same replacement type as the kit.
God slash
Beam blade, handle made by myself
The handle can be connected
You can use it as a double-edged sword or a large sword with a long handle.
I used the pedestal for water stoppage of the light mirror that I made before.
The face doesn't seem to have changed, but in fact, I changed the mask to a 00 diver and extended my chin a little (I've sharpened it a little more than in the photo).
Is the torso OO diver and Exia? I wonder what it was … I wonder if it was try-burning …
Cylinders and wires are put in the gaps to make it an internal structure.
God's ankle guard is transplanted to the calf and integrated with putty
It took me a while to get the natural roundness
The kit used is
Head: God, OO Diver, Shining Break
Body: God, OO diver, star burning (white parts on the side of the neck
Arms: God, Try-Burning, Shining Break
Waist: God, OO Diver, Jegan Blast Master
Legs: God, Shining Break, Shining, Try-Burning
Work by カミオ
aka: caim619 (Twitter account)