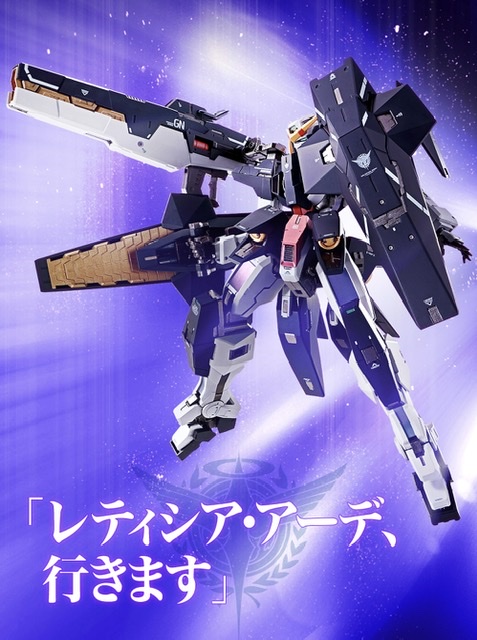 In July 2021 METAL BUILD Gundam Dynames Repair III will be on sale. Many images, VIDEOs, full description
Description of item
The Gundam 00 Names Repair III that appeared in "Gundam 00 Festival 10" Re: vision "" is the first three-dimensional figure in history! Unveil the secret with a number of new gimmicks by the strongest tag of mechanical designer Mr. Yanase x Mr. Ebikawa!
The new appearance of Gundam Dynames, a lock-on aircraft driven by a tee area type innovate, Leticia Ade, has been made into a three-dimensional figure for the first time in history with the strongest tag by designers Takayuki Yanase and Kanetake Ebikawa!
In addition to the new body of the heavy die-cast frame, the main armed GN bazooka and the GN shield on both shoulders are equipped with many new interpretation mechanisms. Introducing the latest aircraft that boasts overwhelming play value with the individuality of the Dynames type, Vache type, and Nadre type.
Product details
Under the supervision of mechanic designer Takayuki Yanase, Gundam Dynames Repair III has been made into a three-dimensional figure for the first time!
The markings on the whole body are supervised by Kanetake Ebikawa, the METAL BUILD Gundam 00 coordinator!
The dynamic pose is determined by the main armed GN bazooka and the shoulder GN shield!
The main armed GN bazooka is mounted on the rear thruster on the waist!
The newly designed joint structure allows you to pose while crouching!
Hold the GN Bazooka in front and shoot like Gundam Dynames!
The GN shield has a front arm that is reminiscent of Gundam Dynames!
By deploying GN Bazooka and GN Cannon, the artillery form of large firepower is reproduced! !!
The beam saber mounted on the rear thruster is pulled out with a pose like Gundam Nadleeh!
The shield is deformed and can be used as handheld equipment!
Product details
Product specifications
Overall height: Approximately 180 mm
Material: ABS, PVC, die-cast
Set contents
・ Main body
・ GN shield x 2
・ GN Bazooka
・ Replacement wrist left and right 4 types each
・ Beam saber effect x 2
・ Beam saber grip x 2
・ A set of dedicated pedestals
・ A set of connection arms for the rear thruster
・ A set of joints for GN bazooka
・ A set of joints for GN shield
・ A set of GN shield covers
Release date: July 2021
Manufacturer's suggested retail price: 25,300 yen (tax 10% included)
* Reservation lifted on February 26, 2021 (Friday) at general retailers