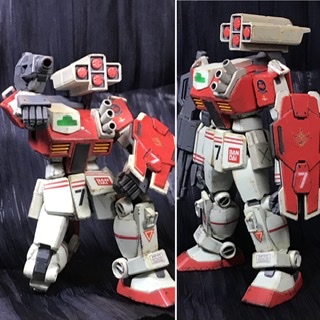 Entry Grade Gundam custom: X Nebula compatible GM. Images, info
From the Modeler:
This time I remodeled Entry Grade Gundam into a GM.
It was okay to put it in that place, but it was a kit that seemed to be chopped up to my heart's content, so I wanted to try it for a while.
I tried to make it look like Iron Foot Hasty (Combat Armors)
I glared at the setting picture and tried to change the proportions, but I wonder if this is the limit in terms of joint structure.
I like small things, so I usually made them smaller, but Hasty is actually big.
One of the reasons for this is that when I remodeled the EG, I had a feeling that there would be no joints when I tried to make it more compact, so I thought it would be better to make it compact.
The face looks like a pixel picture, but it's cute.
Work by hagechan
aka: Jmy23www (Twitter account)