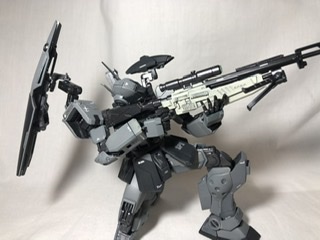 Custom build MG GM Sniper 2: images, info
From the Modeler:
I made MG GM Sniper 2 to my liking.
It seems that the sniper usually performs the mission in pairs with the spotter, so I added a sensor to the backpack instead. I also carry a submachine gun, and the shield is on my right shoulder so that both hands can be opened.
The position and shape of the stock of the rifle have been slightly changed.
The body itself was so good that there was nothing to mess with!
Work by: Mark-int
aka: idumo_mark (Twitter)