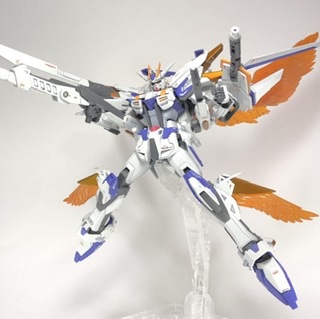 Custom build HGCE GAT-X105VX Strike Gundam Vixtea: images, info
From the Modeler:
Weird regardless of whether it is natural or coordinator … MS developed by the independent factory "Venixis" organized by unique personnel. It was manufactured on the assumption that the latest technology such as VPS will be introduced, and a strike-type custom machine that uses original technology and a dedicated striker pack will be used.
65mm long range beam rifle & FE shield equipped. The Vixtea Striker deploys a binder during high mobility and can operate the Fortis II Beam Cannon and the Varana High Plasma Convergent Beam Launcher.
Unique FE armor is used for the shoulders and legs. The energy mechanism that applies Hyper Dutorion has achieved a significant improvement in output and extended operating time compared to conventional batteries. It lacks confidentiality because it emits light when it is in operation, but it has been adopted as it is because of the opinion of a dedicated pilot that it is cool.
The NE shield can expand the tip to oscillate the beam saber, and a claw device can be attached as an option.
Full burst. A needle-shaped beam is emitted from the beam wing. Since it puts a heavy load on the aircraft, it can be activated only 3 times in one sortie.
Vixtea striker. Naturally, it was developed on the premise of operation as a fighter. Other striker packs can be attached to the strike body only on the back and arms.
Optional anti-ship sword equipment. A readjustment of the IWSP-adopted armament. Ambidextras Halberd mode was also installed with the intention of a full-time pilot.
Work by: オカムラセイジ
aka: vxseriouse (Twitter account)