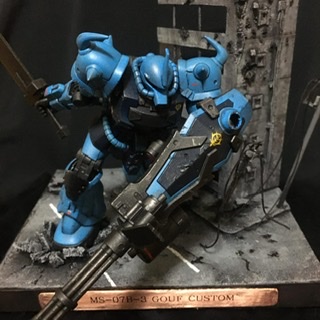 Diorama HGUC Gouf Custom: remodeling parts, info, images of the work in progress too
From the Modeler:
I made a diorama with a combination of HG Gouf Custom + urban area.
It feels like a scene with a heat saber.
Personally speaking of Gouf, I had the image of moving around and playing with the other party.
Actually, magnets are installed on the right sole and the diorama side.
I had a lot of trouble making fine adjustments (Gatling shield is too heavy!)
Thanks to that, I can now stand on even in the forward leaning posture as shown in the other party.
I haven't made any major modifications.
I only add the amount of details by making streaks and plastic boards.
Back shot.
Since the rear skirt was a free space, I equipped it with Sturm Faust.
The handle is shortened so that it does not get in the way of posing.
As usual, the style of bringing explosives directly under the vernier.
I made it carefully on the scale, but there are some suspicious points.
Unassembled state (don't worry about the blood beans and background of your fingers)
The aim of this time is to make the only weak point of this kit, "the thighs do not rise much because of the skirt", look like it in a forward leaning pose.
Reproduce the road surface with a cork board.
The part of the arrow is the magnet.
The building is made by cutting and pasting plastic boards.
I wonder if the scale is correct!
When I noticed, I also made my own heat saber.
The left hand is the existing heat saber, and the right hand is my own work.
It's one size larger and made rugged (of course it can't be stored in the Gatling shield)
I wrote the title of the diorama by hand on a cut-out copper plate, but … the characters were so bad that I felt like I was ruining everything.
After shooting, I reconsidered and corrected it.
In the end, I just stuck a tape printed with Tepla as a compromise, but it's still better than the weird characters …
Work by: may-u