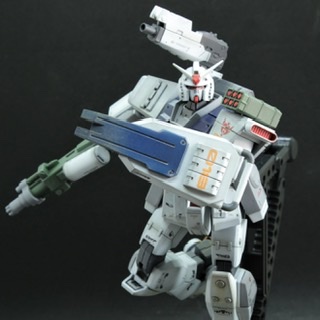 Custom build HGUC Gundam Ground Battle Type: full info, images
From the Modeler:
Although the operation of ground-based MSs almost disappeared around the time of the Grips battle, a small number of land-based Gundams were still in operation at some bases for recruitment training and patrols. However, since the parts production line has already stopped, the worn parts have to be brought from other MS, and the majority of the parts are already other than the ground battle type Gundam.
Each MS has different armaments, but this mecha has a beam gatling gun that reuses the base of a damaged 180 mm cannon, a ground battle type shield with increased armor, a shoulder shotgun, and a micro missile pod.
backpack from the GM.
Thrusters on both hips are from Ez-ARMS.
Since it was made for training and patrol, the entire weathering is only basic dust and there is no trace of battle. A lot of marking decals are also attached to show that the armor is less worn.
Ground GM for backpack and legs, GM II for shoulders and beyond
The head uses a local Gundam.
The inside of the calf and the beam saber are also painted, but I'm worried about the paint film, so I probably won't take it out.
The shoulder micro missile pod is glued and cannot be removed.
Work by: ジム太郎
aka: easymodeler on Twitter