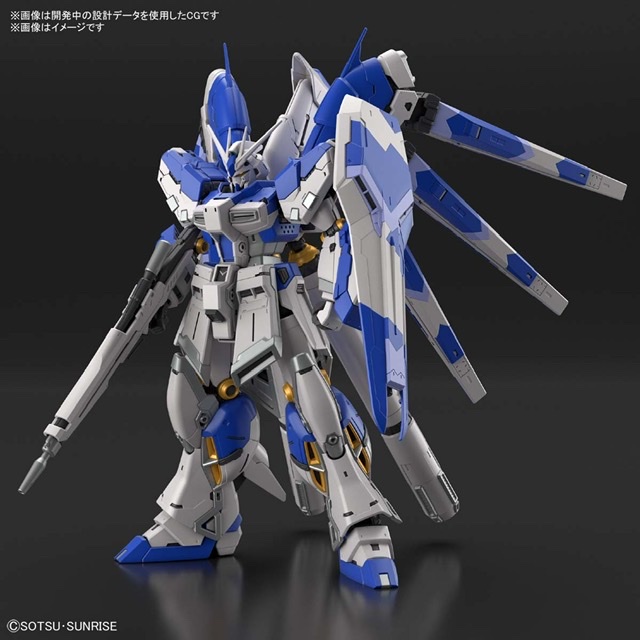 Latest new images for RG Hi-Nu Gundam: info and release date
In September 2021, "RG 1/144 Hi-ν Gundam" will be released.
Description of item:
Hi-ν Gundam, which appears in "Mobile Suit Gundam Char's Counterattack Beltorchika Children", is now available in RG in pursuit of new interpretations of detail expression and reality!
Equipped with a "multi-link gimmick" that slides the armor in conjunction with the movement of each joint. The armor of each part can be slid to expose the mechanical internal frame.
Bold poses are possible by swinging the upper waist base up and down. The lumbar armor is equipped with a connection joint and is designed so that it does not hinder the movement of the legs.
It is possible to move the legs over a wide range and firmly ground the knees.
The arm beam gun is equipped with a gimmick that extends in conjunction with pushing down the wrist.
Neckline parts are movable
The container is equipped with a gimmick that widens the fin funnel and makes it look like a wing.
The "advanced MS joint" allows you to maintain the shape of the fin funnel when shooting.
Various weapons and hand parts are included.
accessories:
Beam rifle x 1
New Hyper Bazooka x 1
Shield x 1
Beam saber (handle x 3, beam blade x 2)
Hand parts (left and right) x 3 types each
Weapon holder (right) x 1 type
Realistic decal x 1
Price 4,950 yen (tax 10% included)