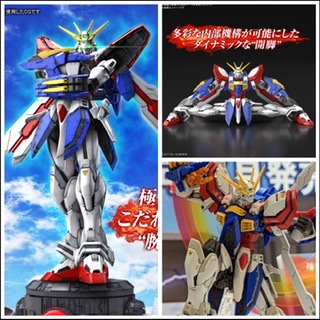 In August 2022, "RG 1/144 God Gundam" will be released. * It has been changed from June release to August release. Just Added many new images, full info
Description of item
From "Mobile Fighter G Gundam", "God Gundam" is now available in RG! Pursuing the largest range of motion in RG history by dropping the human body structure as an actual machine proof!
Pursuing movement as if tracing the human body unique to mobile fighters.
The advanced MS joints on the shoulders and wrists allow you to recreate the characteristic "arms folded" pose.
Introduced a mechanism that can move greatly back and forth and left and right on the body. A telescopic gimmick is mounted on the shoulder to secure a range of motion on the side.
Adopts a 3-axis movable structure on the neck. Movements such as pulling the chin and sticking out the face are possible.
The expansion and contraction of the muscles that occur in the human body when bending the knee is expressed by denting a part of the back peach parts. The axis where the knee armor sinks is adopted, and the movement just like the human body is reproduced.
A new mechanism is used to move the toes, allowing the feet to touch the ground while opening the legs almost horizontally.
Multi-stage movement from the chest to the waist, and by introducing a slide mechanism to the hip joint, it is possible to kick up the legs while flipping up the waist front armor.
The movable axis at the base of the fin allows the fin to flutter behind.
Movable shaft is mounted on the base of the nail and thumb cover to reproduce the god finger.
Comes with an original arrangement of the sun ring effect.
accessories
God slash x 2
Hand parts x 1 set
Joint for connecting the sun wheel effect x 1
PET sheet (sunflower effect) x 1
Realistic decal x 1
Release Date: June 2022
Price: 3,850 yen (tax 10% included)
* It has been changed from June release to August release.