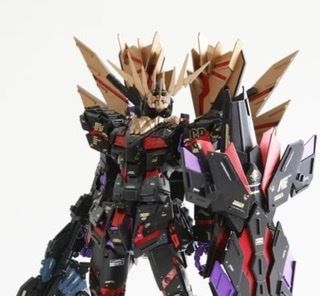 "Crazy Lion" RX-0 [N] MG Banshee Norn custom: images, info
The concept of the work has been created by MG Banshee Norn with the image of falling into the dark side.
The red psycho frame is in the runaway mode of Unicorn Gundam, so in the runaway mode!
However, a double-edged sword that produces incredible power and mobility.
A red psycho frame when the arm door armor is fully open
I was worried about the balance between the black background and the pearl purple.
MG has a long leg and short body style when it is set to Destroy mode, so the body is extended.
Although it is not visible in the photo, it is shafted inside to improve stability.
Basically, the joint part (inner frame) is set to purple and colored.
Work by しんきち
shinn41 on Twitter