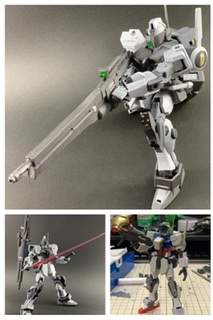 Mixing build HGCE Strike Dagger II Custom: full info, images
The third Dagger L platoon, the sniper type Strike Dagger II Custom.
It is not based on Dagger L, but based on the strike of the test machine used at the time of Strike Noir development, it was made with the setting of customizing by incorporating the parts of Dagger L.
Front view. HG Build Strike is used for the base, and only the head, shoulders, and front armor are of Dagger L. Other than that, I combine suitable junk parts.
Back view. The waist armor is adjusted and used from 105 Dagger, and the backpack is based on the base of the aile striker, combining iron-blooded junk and 1/100 blue frame second L, Acguy, and Destiny parts of the collection. I think the antenna-like part on the left was probably an Archangel part.
The rifle uses a GN-X, and only the scope is a square type close to 105 dagger. It is finished with UV clear resin, but it is quite easy to use.
Although it is called a sniper, it is compatible with all areas because it aimed to be a "high-performance machine that can also sniper, not just for sniper" like GM Sniper II. A Vidar pistol is attached to the back of the front armor, and a 105 dagger side armor is attached to the side armor based on the Double O one.
State before painting. As you can see, it's almost a strike.
I made it using the surplus parts of Dagger L that came out with the sword breaker I made last time. So these two machines are brothers made by dividing one Dagger L.
Finally, the Dagger L Platoon is ready! I'm glad I managed to get it all in one month. Dagger L is a good kit that is easy to assemble and modify
Work by オブライト
tromboy141 on Twitter