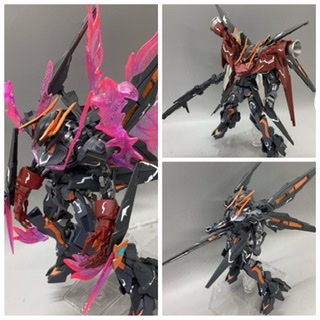 Custom build HGBD:R Gundam Astray Demon Load: images, info
The Load Astray Double Rebake has been remodeled with the motif of the Devil King. The parts used were boosters for Geminass.
Fully equipped back shot
Cave rifle!
Slash harken!
Armor purge!
Lumbar cannon!
Deformation! further…
At maximum output, the whole body is covered with flames.
Weapons are a saber ejected from a gauntlet and a mega slash edge suspended on the waist.
Clear parts inside the wings are duplicated with clear resin
The flame was gradation as much as possible with Easy Painter.
Work by Ryoui
Ryoui_gunpla on Twitter