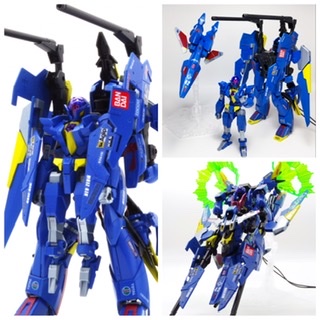 Mixing build HGBD:R Calsonic Sky Armor, Air Advance Plus. Alus Earthree based. Images, info
Specializing in race development, but you can fight. It is such a greedy set.
I felt that Alus was wearing a helmet, so I asked him to become an air racer.
It is a shooting specialized armor and a support machine (unplanned).
As an air racer, the main sponsors are "Calsonic Kansei" and "Neo Zeon".
The number "42" is the number of the player supported by the creator who likes the motorcycle race "MotoGP".
Calsonic Sky Armor. I gave it a proper name.
Each sponsor, including Bandai, gently wraps it up.
The idea was made a year ago, but I didn't expect it to be mixed so much.
I wanted to reduce the number of replacements as much as possible, so the equipment on the back was lifted as it was, and it became a flight form.
Flight form. It became a fairly big vehicle. The balance is bad, but it can be handled on an action basis.
Flight form back shot. This time the illumination is modest.
It's really "green" before painting.
Illuminations lighting test. I feel relieved when I come here.
Work by ドライバー
plasdriver_mn on Instagram