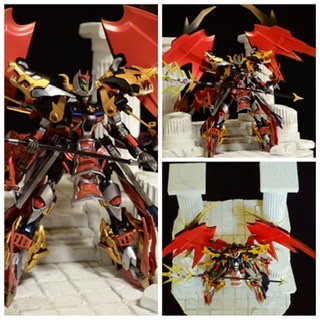 Mixing Build: HGBD:R Eldora Black Dragon. Images, info
Based on Justice Knight, mix parts of Sangoku Sojuden and Barbatos Lupus. The arm part also incorporates parts of Jian Altron, giving it a meaning that Alus is referring to from the world of MUJI divers in the production.
Weapons are from Gyancelot. The tip and end are cut off once and extended with a plastic rod.
From the back. The black dragon has a red tail, but it uses a Valkylander.
The wings are diverted from MG Deathscythe Hell.
From the top. The pedestal is deep, so I'll put something in the future.
Face up. Unfortunately, the accuracy was not very high. While using the horns and center of Gashapon's black dragon, the rest uses the Gundam The End head and Destiny mask.
Weapons that were difficult to paint separately. It is a separate painting based on the image of the Great Demon King Burn's weapon "Light Devil's Wand" from "Dai no Daibouken".
Recently, I made a pedestal set every time, but this time I made a temple-style pedestal.
The production process is the earliest stage. It was decided to use the wings of Deathscythe Hell, but it was quite difficult to match the parts. Initially, I used RG Sinanju parts, but it's not good.
It was around the time when the direction came out by using the parts of Sangoku Sojuden. Since the lower body is poor, I have to spend a lot of trial and error from here.
It was around the time when the selection of parts was completed. I was worried about how to use Valkylander's head, but in the end I just put it on the tail.
The pillars of the temple are made by wrapping "single-sided cardboard" around the core of toilet paper. The base is Styrofoam as usual.
I can always make it with the help of my friends.
Special Thanks to
Force GUNSTARDOM, Wakamon-san, Mirotan.
Work by リオル
re_orleans on Twitter