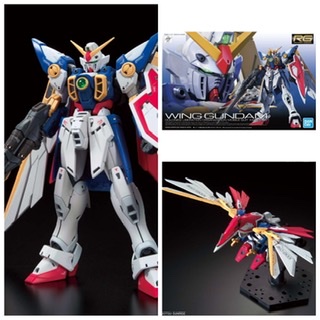 RG 1/144 Wing Gundam box art and many new official images, release info
"RG 1/144 Wing Gundam" will be released on June 19, 2021.
Description of item
The long-awaited RG version of the TV version of "Wing Gundam" with completely new modeling!
Various gimmicks to reproduce the setting mechanism and poses in the play, and the original gimmick based on the actual MS verification are condensed to 1/144 scale.
Introduced an original movable gimmick with the image of a bird in the wing part based on the actual MS verification unique to RG.
"Advanced MS joint" is used for the base of the wing.
Built-in movable gimmicks on the shoulders and body block to reproduce the dynamic posture of the buster rifle and beam saber.
By rearranging the parts, it can be transformed into a bird form.
By using action-based compatible parts, it is possible to display not only in MS state but also in bird form.
accessories
Buster rifle x 1
Shield x 1
Beam saber x 1
Hand parts (left and right) x 3 types each
Weapon holder (right) x 1 type
Action-based compatible parts x 1
Realistic decal x 1
Price: 3,520 yen (tax 10% included)