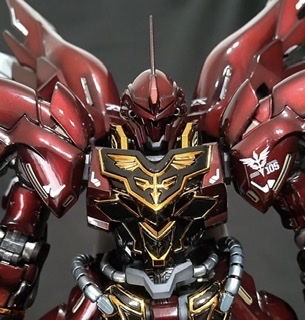 RG 1/144 Sinanju paint gradation, polished: images, info
RG Sinanju painted with candy gradation → polished
I didn't want to make it glaring so much, so I use fine gold as the base.
The sticker used a water slide Gundam decal. The back of the armor is matte black. The pipes are gun chrome + original cyan of the color.
White is white + neutral gray + cyan.
The shield is heavy and not very stable.
Fully equipped with weapons.
Black Suff → Gradation with Super Gold → GX Deep Clear Red 3 times → Super Clear Ⅲ → Gundam Marker Water transfer decal → Super Clear Ⅲ Sand blow → Super Clear Ⅲ 2 times → Water sharpening with No. 2000 → Tamiya compound coarse → Fine → Finish Eyes → Wash with neutral detergent → Complete.
For processes that require drying, each process is dried for at least one week. So it took half a year.
All paints used are Creos.
Before polishing.
After polishing
Work by 陸ガメのリク