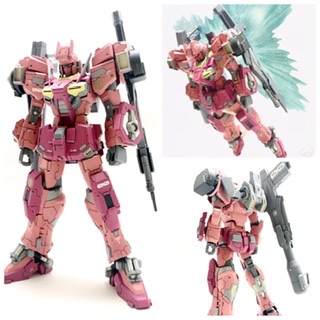 Mixing Build HG00 1/144 Perfect O Gundam III Red Warrior: images, info
I thought lightly that if I put a 00 Sky backpack on O Gundam and painted it red, the Red Warrior would be completed, but it was quite difficult to pull the ankles and shields.
In the first place, hg O Gundam was cool, so I didn't mess with the style. There is a carelessness in the connection part of the weapon … But I think that the modelers will understand how it feels lol
Weapons are based on Sky's. It's closer to Amazing because it has a sword. I also marked the sword and the body with roses, which is of course associated with the appearance of a master. The shield … I did my best.
Since there is a lot of difference between the left and right, from the side. I tried to attach a saber to the sword.
The Balkan behind the shield is also implicitly reproduced.
Right half of the body. This is a solar furnace. Effective use of selection formula. It is a cost reduction. I don't know if this works in the settings!
The arm saber is also reproduced there. I put a Zeta mask on the face and scraped off the mouth.
The impression changes considerably depending on the mask and antenna.
So it was Perfect O Gundam Red Warrior.
Work by LEDsen