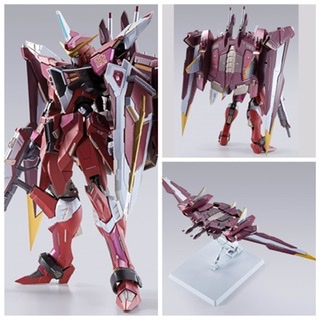 In January 2022, METAL BUILD Justice Gundam will be on sale: many official images, full info
Description of item
Justice Gundam is now available in METAL BUILD!
Justice Gundam, which was active in the latter half of the work of "Mobile Suit Gundam SEED", is three-dimensionalized with the main body silhouette interpreted from the cooperation with Fatum-00, which is the biggest feature. Fatum-00 has a cloak-like silhouette when mounted on the back, and in the lifter form, the deployment gimmick increases the volume and reminds us of the male figure in the play.
Product details
Justice Gundam is three-dimensionalized with a gimmick, a design arrangement unique to METAL BUILD!
Under the supervision of Mr. Satoshi Shigeta, the chief animation director of "Mobile Suit Gundam SEED", the main body, Fatum-00, is modeled.
Fatum-00 builds a silhouette reminiscent of a knight's cloak when mounted on the back.
In the lifter form Fatum-00, the boarding part of Justice Gundam slides out.
Fatum-00, which has been increased in volume by expanding the slides, is reminiscent of the powerful male figure in the play.
A dedicated joint is also included, and it is possible to display the Fatum-00 alone.
The beam saber mounted on the waist can also connect grips.
The beam boomerang on both shoulders can be held by expanding the grip. You can pose with the included beam boomerang effect.
Product details
Product specifications
Overall height: Approximately 180mm
Material: ABS, PVC, die-cast
Set contents
・ Main body
・ Fatum-00
・ Replacement wrist left and right 4 types each
・ Beam rifle
・ Beam saber (2 handles, 1 connecting handle)
・ Beam saber effect x 2
・ Beam boomerang effect x 2
·shield
・ A set of dedicated joints and columns
・ Dedicated pedestal
・ Replacement antenna
METAL BUILD
Justice Gundam
Price: 28,600 yen (tax 10% included)
Release date: January 2022
General store sales