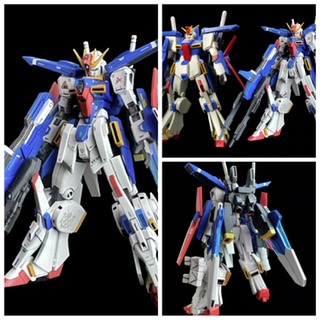 Mixing Build HGUC Amuro Ray exclusive ZZ Gundam Londo Bell corps actual battle deployment type: images, work in progress, full info and credits
It seems that Amuro Ray didn't like ZZ because it was the Zeta one generation ago that he requested when he was assigned to Londo Bell.
So, this time I made a ZZ that Amuro would want to ride.
I have completely abandoned the ZZ's identity, the solid body shape, and finished it in a slender body.
The deformation mechanism has been omitted this time as well.
Equipped with 4 funnels on the back. The setting is a new equipment that integrates offense and defense.
I combined the AGE3 thruster with the Blue Destiny backpack. Beam saber is from the origin Gundam backpack.
Twin Cannons are a combination of AGE3 Cannon and Wing Zero Twin Buster Rifle to create a silhouette that looks like it.
The fuselage was made by splicing AGE3 parts and other parts based on the V2 Gundam one. I wonder if the silhouette has become quite crisp.
The standing is supreme.
Early mixing.
The head was sharpened based on the staymen to erase the individuality.
It was the high mega cannon on the forehead that was sober.
Manufactured by carving the tip of the V2 buster. I should have made it with a plastic board normally.
I wanted to take these 2 shots
Massive Zeta and stylish ZZ.
I think I made a pretty interesting arrangement.
Finally, compare with the unassembled.
Thank you for visiting.
Work by GN TakumA 擬似太陽炉搭載型
@TakumA92172561 on Twitter