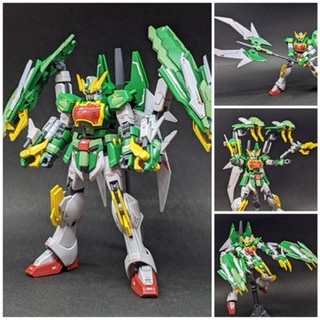 30 Minutes Missions x HGBD Jiyan Altron: Sutron Gundam. Many images, credits, full info
スートロンガンダム
It is a mixing of 30 Minutes Missions and Altron Gundam. Based on Jiyan Altron, the elements of Altron Gundam TV version and EW version have been incorporated.
The name means "four-headed dragon"
When I saw the 30MM dragon head, I made it a dragon hang! So I mixed it with Altron. Mixing is just a matter of sticking together, but lol.
Dragon hang
Like the TV version, it is equipped with a flamethrower and can also be used as a knuckle claw.
Tyrant dragon hang
Added large dragon hang. Can also be used as a shield
The telescopic gimmick of Dragon Hang was attached by processing the connection arm of the shield of Star Build Strike.
Tyrant glaive
A large weapon mounted on the back. Can be transformed into a naginata, sickle, or ax
Functions as a flight wing while mounted
Also equipped with a beam cannon like the Altron TV version
Shenlong style light equipment specifications
Work by jqx2xqnnwfrd8no (Twitter account) aka: 冨岡バエル