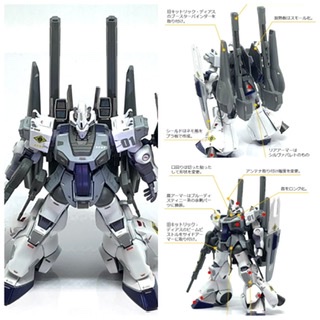 Custom Build HGUC Prototype Dijeh: images, info and credits
It is an original MS created by remodeling HGUC Dijeh
At first, I was thinking of making a Rick Dijeh Kai, but I just couldn't like the shape of the slippers, and there are many people who have already made it…
I usually paint with a brush, but I don't have much time this time, so white is spray painted. Tamiya's pure white.
Others are painted with water-based paint. The main gray is a light grayish white water-based hobby color. In addition, several gray colors are painted separately. The dark blue part is special Titans blue.
Thrusters are usually clear red, which is a water-based hobby color with lacquer silver as the base, but this time I changed my mind and changed to clear blue.
As usual, ink with water-based paint, apply decals, and matte top coat.
Work by gpo144 (Twitter account)