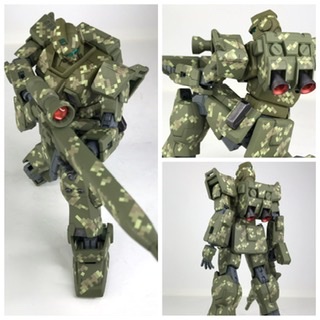 HGUC GM Sniper pixel camo: images, info and credits
It is a GM sniper limited (Premium Bandai) (ground battle type GM base of 08th MS platoon). Originally, the whole body is dark green. After painting this with khaki etc., I pasted the decal of pixel forest camouflage.
The ground was painted with Acrysion khaki. However, this khaki was very bad to ride, so from the middle, I mixed olive drab 2 with white to make a similar color and painted it.
The decal is a forest camouflage of pixel camouflage 2 of high cue parts.
Color and dry, paint and dry, cut decals, wet, paste, apply mark softer, position, align, dry, blow top coat to dry, assemble, and so on.
Work by mkoku
@mkoku on Twitter
mkoku3 on Instagram