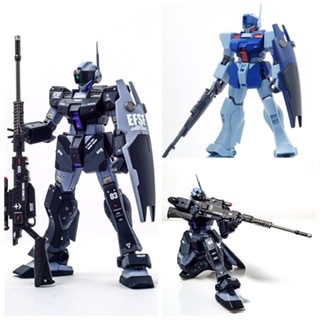 Remodeled HGUC RGM-79SP Lydo Wolf's GM Sniper II: images, work in progress, info
The HGUC GM Sniper II has been made into an original color Lydo Wolf exclusive machine. The main repair points are detail improvement by streaks, proportion changes, and new construction of sniper rifles.
Change the red part such as the cockpit hatch to purple as i like. Gray and dark gray are also toned with violet to match it. The panel lines such as shoulders, arms, and front skirt are also newly expressed with streaks to increase the amount of information.
I set the visor to stop at the bottom and made the eyes look bad. Foil seals and plating are applied to the inside of the main camera and sub camera to reflect the strobe and make adjustments to give off a fluffy light. A red point with a plastic rod of 0.4 mm is placed at a key point to imitate a sensor. It is a part that is particular about painting and making the back of the shield.
By extending each part and changing the proportions, i was able to secure a considerable range of motion even with HGUC. As for the sniper rifle, the existing one is a little like Matagi, so lol I made a new one like Gundam. The calf bolts are not embedded, but are painted separately by making holes after streaks.
Verniers silver and purple.
It is an unassembled before. It looks like a boy because it's tightly packed.
I m mixing existing rifles and Kotobukiya parts. It took about a kit fee just for the parts lol
As shown in the figure, each part has been extended and the front skirt has also been enlarged.
Work by jak_modeling