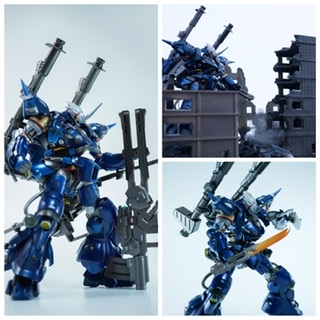 Mixing Build HGBF Blitz Kampfer: images, info and credits
Based on Kampfer Amazing, I played with it to my liking
I also make a little diorama-like thing as a shooting set, so please have a look if you like.
Aiming for a stylish Kampfer
The name Blitz is the same German as Kampfer, lightning and assault.
I dared to put on masks with different colors and textures to give it a special feel.
From left and right
The mask contains red scarf paint
Double sniper gun
Is there a sniper on the assault plane? I thought inwardly, but I made it because I wanted to do a sniper pose
Bazooka, shotgun
Speaking of Kampfer, it's like this.
Knife, heat saber
Melee weapons, equipped with scabbards on the backs of both arms
There is also a beam saber, but later
Shoot mine
Landmines to shoot and install
I made it because I wanted to use it in a different way from the chain mine.
By shooting, it will be possible to install it at a distance, and I intend to expand the range of usage.
Posing
Bonus armed hand gun x 2
You may have noticed that there are some pictures taken outside, but the outside shot looks really good … I want to take all of them outside.
Urban diorama-like background with flickering reflections
Speaking of Kampfer, I'm trying for the first time because it's an urban warfare
Since this is my first time, I used Tomytec's GeoColle series etc. while using 100-yen styrene board as the main material.
It was a good study, I want to make use of it next time
However, I think that it will be transmitted to people who are taking pictures outside with a Hokkaido modeler, but this time Hokkaido is full of snow, the weather does not continue, it gets dark soon, and it is quite difficult because it is full of mountains and electric wires.
The kits used are Kampfer Amazing
Gerbera Tetra, Char's Zaku, ν Gundam, Messer, etc.
The details of the 100-yen earphone cable for each pipe, the button for the hip joint, and the binding band for the flickering structure in the arm have been improved this time as well.
The toes are also the lock part of the cable tie.
Work by カミオ
@caim619 on Twitter