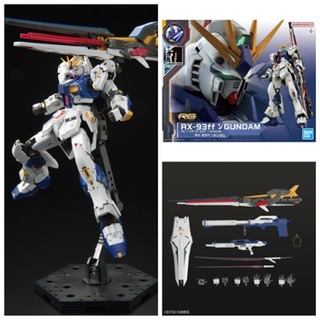 RG 1/144 RX-93ff Nu Gundam, released on April 25, 2022. Box Art, may official images and full info
On April 25, 2022, "RG 1/144 RX-93ff ν Gundam" will be on sale at the shop "GUNDAM SIDE-F" in "Gundam Park Fukuoka" in LaLaport Fukuoka.
Description of item
The full-scale ν Gundam statue "RX-93ff ν Gundam" is now available in RG-compliant fine and high-density details!
In addition to the molding color that thoroughly reproduces the characteristic body color of "RX-93ff ν Gundam", realistic decals and water transfer type decals that conform to the standing image are included!
Reproduce the long range fin funnel, which is the biggest feature of "RX-93ff ν Gundam", with new parts!
Equipped with a deployment gimmick to the launch form, it can be suspended or attached to the arm with new parts of the attached shoulder part.
Original hand parts based on the statue are included!
The shoulders and abdomen have built-in joints and can be moved flexibly. Twisting and shoulder extrusion are possible, realizing more dynamic poses.
The shoulder armor has a built-in mechanism that expands greatly in conjunction with the internal joints.
By expanding the range of motion of the shoulders, the interference between parts that occurs when posing with arms is reduced.
The waist joint can be moved finely for each block, expanding the range of movement of the legs.
It is possible to move the knees forward greatly, and it is possible to produce a powerful pose with a wide stance even though it is 1/144 scale.
The legs are equipped with a "multi-link gimmick" that slides the armor in conjunction with the movement of each joint. The pose with the knee bent greatly is also reproduced naturally.
Price: 4,950 yen (10% including tax)