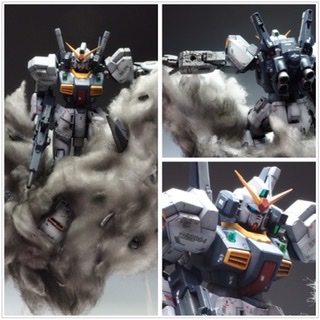 komakuma's RG 1/144 Gundam Mk-II (Z Gundam diorama) images, info
I tried to reproduce one scene of the opening of Z Gundam using RG Gundam mk2.
Make a base with a clear plastic stick and clear plastic paper, and attach a 100% cotton puff to make it look like smoke.
I attached the shield of HG Gundam mk2 that was finely separated and painted it with graphite black.
The RG shield was a waste and couldn't be broken
The left arm, which was equipped with a shield, has a lot of damage processing.
The camera eye is painted in fluorescent green and illuminated with a black light.
It is the state before weathering.
I made it on the premise of damage processing, but it was a shock that the decal peeled off when it was sprayed with matte clear
It's my favorite scene In Z Gundam, so I wanted to express the excitement I was watching in real time.
Thank you for watching until the end
Work by komakuma