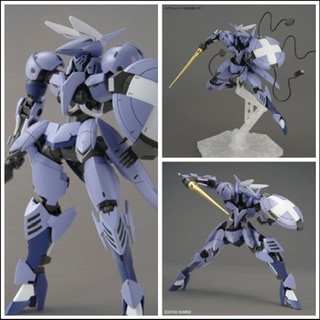 HGIBO 1/144 V07-0126 Sigrún: many official images, box Art, info release and description
The V07-0126 Sigrún is a mobile suit introduced in the Mobile Suit Gundam IRON-BLOODED ORPHANS MSV and will be appearing in Mobile Suit Gundam IRON-BLOODED ORPHANS G.
One of the mobile suits that adopted the Valkyrja frame developed at the ending stages of the Calamity War. It is a high-performance mobile suit designed with the concept of high mobility and high output, and was expected to change the course of the war. However, it did not play an active role before the Calamity War ended as mobile suits utilizing the Gundam frame, which was developed at the same time, dominated the battlefield. This is a rare mobile suit that is produced in very small numbers.
Armaments
Valkyrja Rapier
Valkyrja Round Shield
From "Mobile Suit Gundam Iron-Blooded Orphans G" comes a game-original MS!
Special weapons such as Valkyrie Rapier and Valkyrie Round Shield are included.
Hand parts such as handles and flat hands for rapiers are included.
accessories
Valkyrie Rapier x 1
Valkyrie Round Shield x 1
Hand parts x 1 set
Lead wire x 1 set
Sticker x 1
Released on June 16, 2022
Price: 1,760 Yen