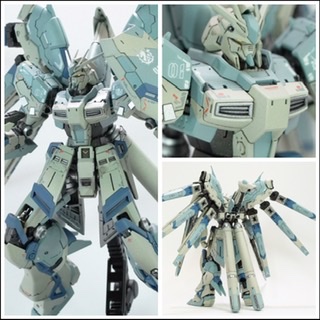 モデロ' s RG 1/144 Hi Nu Gundam air superiority camo color: images, info and credits
The RG Hi Nu Gundam is finished in an air superiority camouflage color.
Air superiority camouflage is a camouflage color that blends into the sky. It seems that it is called marine camouflage in the sea. I wrote it as air superiority camouflage, but it is an image that also mixes offshore camouflage.
H-8 Silver / H-9 Gold / H-12 Matte Black / H-18 Black Iron Color / H-20 Matte Clear / H-38 Red Iron Color / H-51 Gal Gray / H-56 Painted in medium blue/H-67 light blue.
The ink case is Tamiya's ink case black. "I'm re-carving the existing mold." Inking the fin funnel was quite difficult (numerically).
The original was a color scheme with a lot of gold, but I used only small parts as accents. Also, the red decals are strange as camouflage, but they also worked well as accents.
Weapon Beam Rifle I think it's a very nice design, although it's quite arranged.
Weapon New Hyper Bazooka
Work by モデロ
@modelo_channel on Twitter