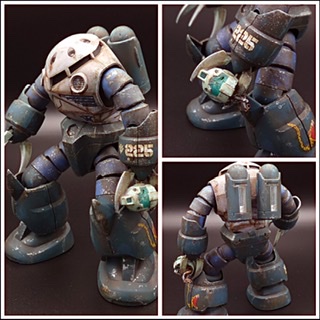 びわ's HGUC 1/144 Z'Gok: images, info and credits
Created in early April.
At that time, I couldn't get an HG Z'Gok, so I bought a pre-assembled Z'Gok on a flea market app, and added weathering, decals, and Gundam markers to paint it.
The mono-eye is replaced with a cut orange crystal charm sticker found at a 100-yen shop.
The sea snake and number decals were purchased at a shop that sells gas guns and electric guns.
I also add rust stains on the back.
GM's head has been glued since the time of purchase, and this is also dirty overall, and the main camera is cracked.
Production process 1
It is in Z'Gok condition at the time of purchase.
It was cool enough as it was, but I made a few changes.
Work by びわ
@Biwa_2touryuuGM on Twitter