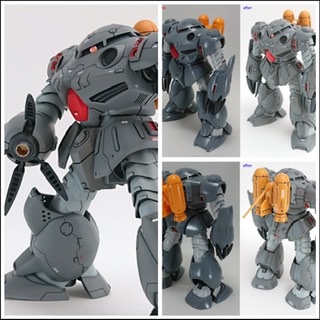 U2K's HGUC 1/144 Z'Gok E remodeled: images, description
This time as well, all painting, joint erasing, streak carving, plastic plate pasting, Gundam decals, duct/nozzle addition, mono-eye change, hole drilling, beads addition, claw hole punching, minus mold addition, super smooth clear finish.
There was a lot of smooth area, so I added more streaks than usual.
but moderately
I scraped away the mall that I don't know if there is a waist armor, and made a self-assertion with a plastic board.
The waist looks slim, so I added a duct to increase the volume.
I put a minus mold on the shoulder and waist, and added a nozzle because I was worried about the gap around the Achilles tendon.
a little more mobile
Everyone fills in the holes in their nails, so I put up ribs to see if I could do something different
Pretty annoying…
But I'm satisfied because it's lighter and stronger, and it looks atrocious.
I wanted to make the mono-eye movable, but I also wanted to keep the wall…
I used double-sided tape to attach WAVE's parts, which reminded me of the idea of ​​making it movable while leaving it as it is
This is a comparison with patchwork, easy inking and partial painting
The brightness at the time of shooting is different, but please forgive me
Work by U2K