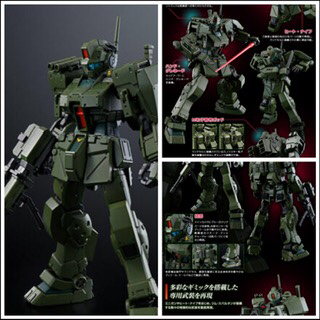 P-Bandai HGUC 1/144 GM Spartan: full info and full official images
Deployed to the Armored Marine Division of the Earth Federation Forces
A "Phantom MS" Appears ―
From "Monthly Bandai Making Journal" project "F.M.S" published in 1989, GM Spartan is commercialized in the HG series.
Thoroughly reproduce the characteristic MS shape and armaments in the latest HG format with new modeling.
Equipped with armed gimmicks and movable performance that expand the range of action and production.
Pursue high-detail modeling with modern format
The 'GM Spartan', a G-series MS that follows the lineage of GM, is reproduced with sophisticated and sharp modeling.
The moss green color, which increases the concealment rate in subtropical regions, is reproduced with molded colors, and the shape that has been built down to the details of the whole body creates a realistic feeling.
head
Blue clear parts are used for the main camera. Detailed reproduction of the details of the internal sensor.
The smoke discharger on the side is reproduced with different parts.
Reproduce the special armament
Thoroughly reproduces the many characteristic weapons equipped by GM Spartan, including the minigun and heat knife.
minigun
Thorough reproduction of special armament equipped with a handgun at the bottom of the barrel.
Color-coding is realized by dividing the subdivided parts, and various movable gimmicks such as the rotating gimmick of the barrel are installed.
The foregrip and sight scope are equipped with a swing function.
The magazine arm on the side is movable, allowing you to exchange it with a spare magazine. The magazine can also be suspended on the back armor.
WAMM (wired anti-MS missile)
WAMM and beam saber can be mounted on the mount rack connected to the upper part of the shoulder armor.
The mount rack can also be attached to the forearm.
heat knife
Reproduce the heat knife equipped on the back pack.
The handle and blade are color-coded by dividing the parts.
M particle spray pod
The Minovsky particle scattering device equipped on the back pack can be deployed with a drawer gimmick.
Equipped with movable performance to produce a variety of poses
Flexible posing is possible with legs that adopt a multi-axis structure, thigh roll axis and swing function, and shoulder drawer structure.
A new marking sticker that includes the MS number is included.
Attached armed: minigun / heat knife / WAMM / beam saber
From 12:00 on September 8, 2022, orders for "HG 1/144 GM Spartan" will start at Premium Bandai's hobby online shop.
Sales price: 2,420 yen (tax included)
Delivery date: Scheduled to be shipped in December 2022