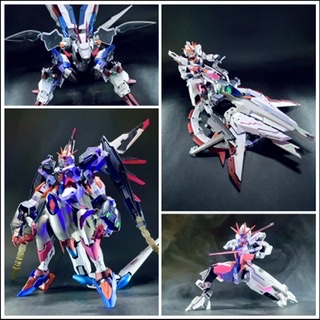 Amazing custom build HG 1/144 Fractale Gundam: full images, info
This work was inspired by the popular combined hero Robo series.
First of all, from Core Gundam.
This time, as a proximity-specialized type, only the sword was equipped, the vernier was strengthened, and the armor was strengthened so that it could withstand a certain amount of impact.
A figure united with a buddy beast.
TERTIUS GUNDAM
I chose this name because it means the third in Latin and it is the third of my private MS
This is a fractal dragon, a buddy that seems to appear in the latter half of the anime (or rather, the beast of the first half was sacred).
It is based on white with a powerful and sacred image.
Fractal is an infinite division in which the infinity and the origin are the same.
It means that you can create infinitely based on Core Gundam and Armor.
A so-called true Gundam that is united
with a fractal dragon.
It features a huge shield, a sword, and a sun ring on its back.
That is, while incorporating the standard of the union robot, while looking at the balance, Gundam is done properly!
I did my best to get it
Work by sino
@sino_coregundam on Twitter