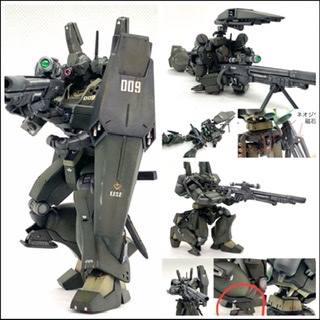 豆じろー's Amazing Remodeling HGUC 1/144 RGM-89De Jegan (Ecoas Type) Sniper Custom for Captain M.J. Full images
Jegan Ecoas specification sniper custom [Captain MJ machine].
The HG Jegan Ecoas has been remodeled into a sniper custom machine that has fully movable joints other than the fingers and can take four sniping postures: standing, kneeling, sitting, and lying down.
Captain MJ (Michael Jefferson) is a character in Mamejiro's fantasy. A sniper trained by Major Conroy and the 9th man of Ecoas. He is a railgun sniper rifle that pierces opponents with their shields. Since he can't see the optical axis like a mega-particle beam, his sniper's position is also difficult to detect. Ignore the I-field as he is a live bullet. It is possible to shoot down even powerful mobile armor with a single blow. Snipers play a major strategic role for Ecoas, who carry out special missions with a small number of elites. He also undertakes assassinations by sniping shuttles for VIPs, disguising them as accidents caused by space debris (bullets and wreckage that drift while maintaining their speed due to inertia). That's the setting.
Work by 豆じろー