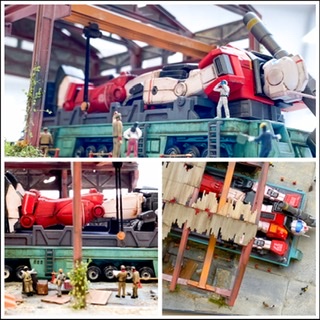 HGUC 1/144 GM Cannon Diorama: "Field Maintenance" images, info and credits
….GM cannon that was damaged in a reckless battle and imaged field maintenance. After this, an event occurs where the pilot is scolded by the technical officer.
The building used a broken factory from GeoColle Combat. It's a little big, so I cut it to about 3/4 size.
back shot. While a foreman and a federal officer are at odds over a maintenance plan, we've included a duo slacking off on the outside of the building.
Local procurement of an abandoned factory as a temporary maintenance site. It is an image of storing the MS and servicing it from now on.
The woman is the chief developer of GM Cannon, a person in the position of a designer.
The tin roof is painted with Vallejo.
Work by はがねのつるぎ
@ haganearms on Twitter