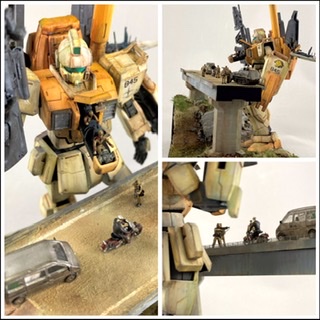 Diorama: HGUC 1/144 GM Ground Type "How many miles to the border?" Images, info and credits
I made a diorama with a GM Ground Type plastic model.
Motorcycles and cars stopped by federal forces at checkpoints. A great Zeon man is hiding in the back seat, and it's a scene of absolute desperation.
The cockpit of the Ground GM is a two-seat type, and one person is in charge of monitoring and controlling the sensors of the backpack.
The pilot in the foreground is friends with a motorcycle guy and wants to stop him somehow, but he can't do anything about it, so he's looking at him.
After this, Zeon's diversionary force launches a surprise attack, and we are waiting for the development of escaping by taking advantage of the commotion.
Work by はがねのつるぎ
@ haganearms on Twitter