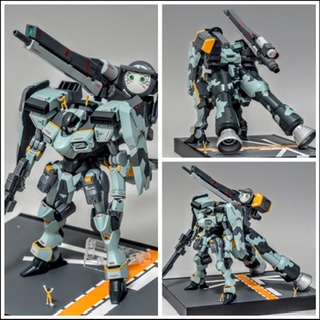 HG 1/144 The Witch from Mercury
Zowort Aero (Strike Package) custom: images, info and credits
HG 1/144 The Witch from Mercury
Zowort Aero (Strike Package)
I put it on a pedestal that looks like an aircraft carrier deck and decorated it in a vignette style.
The Deck Crew is a Builders Parts MS figure.
This is Zowort Aero's space combat specification, orbital package.
It is a straight-line leader equipped with super-class boosters for space battles.
It is a setting that is also called Zowort Super Heavy due to its excessive weight.
We are directing the hugeness of the booster in contrast with the deck crew.
Zowort Aero is equipped with an aerodynamic wing and has a combat attack specification that adds armament to the limit of the loading capacity.
In the atmosphere, it mainly performs low-altitude invasions with hover maneuvers.
The beam launcher has high power and a long range, but its weight balance is bad and it is difficult to operate even with AI support, so it is a machine exclusively for ace pilots.
The Orbital Package is equipment for anti-ship hit-and-run combat.
Its straight-line acceleration performance is at a level that overwhelms other MS, but it does not have a sharp turn, and once it attacks, it is difficult to reach the operational area again.
The beam launcher is equipped with an external generator and condenser at the rear, and can irradiate a beam with high output and high penetration power.
Rumor has it that it was deployed for the purpose of breaking through a Gundam-class escutcheon.
Precise shooting is possible with the radome unit equipped with the missile pod and set.
The pedestal was made by masking and painting on a plastic plate.
I'm satisfied because the coloring of the deck crew was done quite well.
Work by morish/もりっシュ
@ O15RXnhQL8nvfYW on Twitter
HG 1/144 水星の魔女 
ザウォート・エアロ(ストライクパッケージ)
完成しました!

ザウォートヘビィよりもさらに重装仕様のバリエーションがあったら‥という妄想を元に製作しました
空母甲板風の台座に載せてヴィネット風に飾ってみました
(1/4)続きます!#ガンプラ#FTBC2023#水星の魔女 pic.twitter.com/1RCRKxNXxj

— morish/もりっシュ (@O15RXnhQL8nvfYW) February 17, 2023