These eyeglasses, which will be produced and sold by Japanese eyeglass store Owndays, are coming out later this year, as part of a collection called "Collab Glasses ~Gundam x Owndays Wear the Gundam~". Their designs are based on mobile suits and there are four varieties: the original Mobile Suit Gundam, Char's Zaku, regular Zaku, and Dom.
The frames are made from sturdy-but-light stainless steel, painted with a stylish matte color, and the lenses are polarized to prevent sun glare. Each style also comes with snap-on sunglasses for maximum versatility. They're designed to be durable and long-lasting, which makes their 11,980 yen price tag (US$110) worth it, especially since it includes the cost of prescription lenses.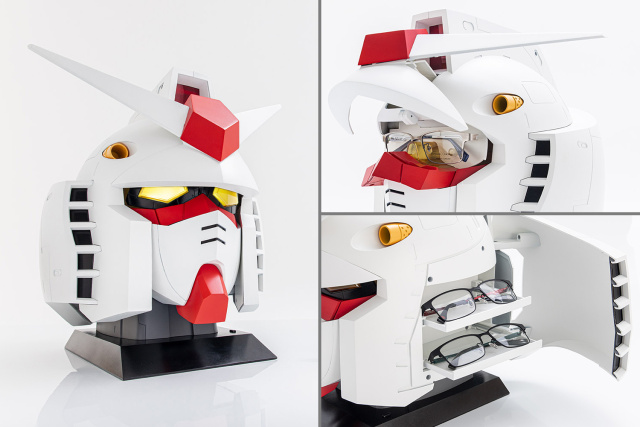 Ahead of the release of the glasses, Owndays is also offering for preorder a super cool glasses holder that is designed to look like a Gundam head, which can hold six pairs in total. Pulling up the antenna opens the dual monitor (the Gundam's eyes), revealing a space to store one pair, and putting the antenna back in place causes the eyes to light up and an action figure-like noise to play.
Even if you don't wear glasses, this case looks awesome and would be a super cool collector's item well worth the hefty price tag of 39,980 yen. It will be released in March and is currently available for preorder online and in Owndays' new Diver City shop in Odaiba.
The glasses, on the other hand, will be available for sale on December 13