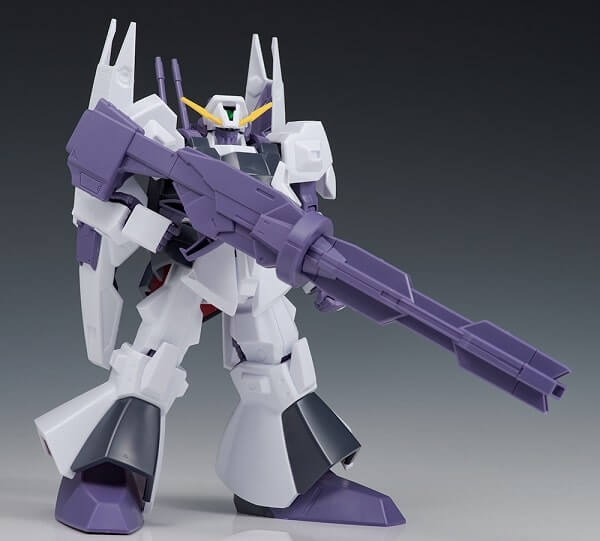 The High Grade Build Divers (HGBD) Build Γ Gundam (Build Gamma Gundam) is a 1/144 scale kit released in 2020, as a Bandai Hobby Online Shop exclusive.
Price: 2,090 Yen
Includes:
Build Γ (Gamma) Gundam
Beam Gatling Bazooka
2 Beam Pistols
Beam Saber
a sheet of foil stickers
Kit Features & Gimmicks:
Index fingers are poseable.
Both the elbow and knee joints feature double-jointed parts for a wider range of articulation.
Hip joints can…
Tilt upwards/downwards on each piece.
Rotate on each thigh.
Beam Gatling Bazooka's foregrip can swing front and back.
This Gunpla is considered as the closest thing to have a "Revive" version of the HGUC Rick Dias kit.
HGBDで発売されたビルドガンマガンダム。
価格は2,090円でプレミアムバンダイでの受注品となります。
パッケージは単色ですが説明書はフルカラーで機体説明もある物でした。
以上HGBD ビルドガンマガンダム レビューでした。
HGUCリック・ディアスがベースになっていますがかなりの部分が新造されています。
新しい武装で巨大なビームガトリングバズも本体に良く似合っていますね。
本体は流用パーツもあるのですが、ver1.5のような内容になっていて
装甲の形状も細かく変化し、ダルめだったモールドなどもよりクッキリしたものになり
合わせ目もかなり目立たなくなっていました。
また関節も改良が加えられ可動範囲はもちろん、関節を曲げた時の隙間などにも気が配られていて驚きが多いキットでした。
HGBD ビルドガンマガンダム レビュー
schizophonic9.com