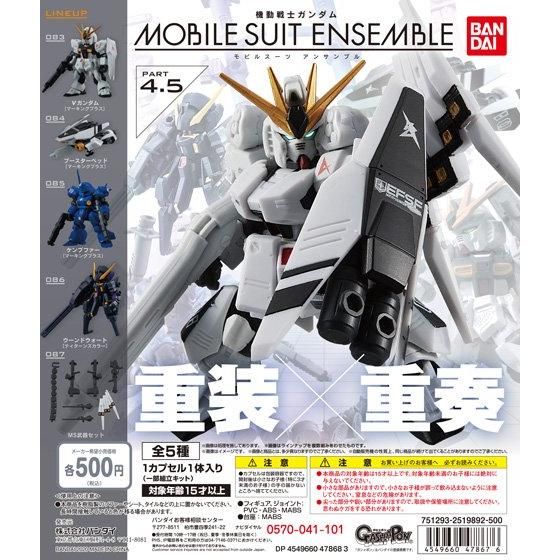 Marking is added to ν Gundam etc!
Images and full eng info
The 4.5th installment of the "MOBILE SUIT ENSEMBLE" series, with the theme of changing silhouettes due to armament, will be on sale from the 5th week of April at capsule vending machines at toy stores nationwide.  The price is 500 yen (tax included).
In this edition, markings have been added to the "ν Gundam", "Kampfer" and "Booster" recorded in the 4th edition, and "Woundwort" has appeared in the Titans color.  In addition, "MS Weapon Set" will be added to the lineup.
Mobile Suit Gundam MOBILE SUIT ENSEMBLE 4.5
Price: 500 yen each (tax included)
Release date: April 2020, "5th week"
Number of types: 5
【lineup】
・ Ν Gundam (Marking Plus)
・ Kempfer (marking plus)
・ Woundwort (Titans)
・ Booster  (marking plus)
・ MS weapon set