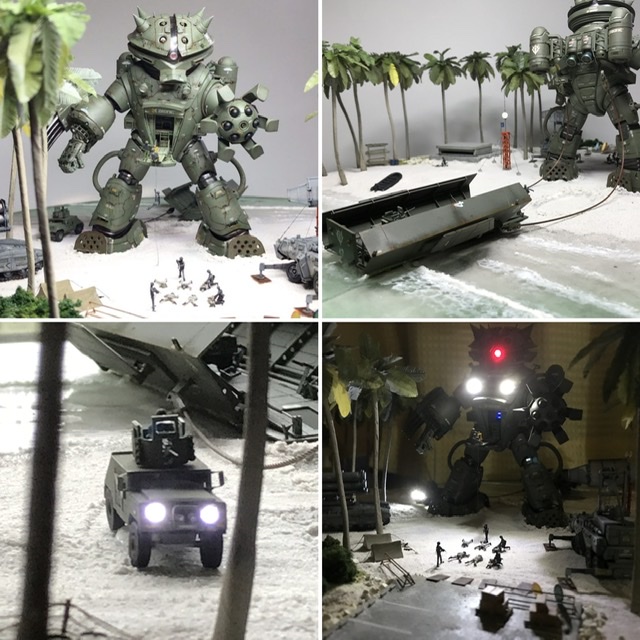 1/144 Gunpla Diorama: Raid at Dawn. Images, full info
From the modeler:
By removing colonies, solar power generation efficiency will decline and humanity will be dependent on oil again.  Zeon's target was the oilfields of Southeast Asia.
Acguy Kai 2 crew members 8 crew members
Submersible container towed by Acguy Kai
Lightly armored vehicle mounted inside the container
Zeon armored light armored vehicle / 12.7 mm heavy machine gun installed
Zeon SEALs hanging from Agai Kai
Earth Federation Forces Simple Radar Observation Vehicle
Earth Federation Forces mobile surface-to-ship missile
Chest searchlight lit by LED
Containers and light armored vehicles are made of plastic
Replace the turret of the Type 61 tank with your own missile
Converted hover truck to mass-produced 6-wheel type
30 figures are made by myself with plastic boards and plastic sticks
Diorama base uses Styrofoam
Sea poured epoxy resin
The 30 palm trees are made of tracing paper and wire.
Work by Sanny Works aka SM_gensan on Twitter