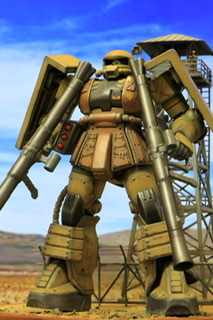 Diorama: Guardian. HGUC Zaku II. Semi scratch build. Full images, wip, info
From the Modeler:
This Zaku II – GUARDIAN was created with the imagination of what kind of Zaku would be if there was a Zaku defending the outer edge of the Odessa mine base.
I wanted to express the atmosphere of the base, so I took this opportunity to try making a diorama for the first time. The base of Zaku is HGUC Zaku II.
Since it is a MS that stands on the brunt, the left arm is replaced with a shield and the armor is strengthened in various places.
After adding armor to the calf, the missile pod belt was no longer attached, so I had no choice but to move the missile pod to the waist armor.
The shin armor is made by myself with a plastic plate. It is removable with a magnet.
I also modified the head a little. The top of the head was flattened and overlaid between the eyebrows so that it looked bad. Monoeye is equipped with builder's parts.
The painting was a gradation painting as a whole, but the effect was weakened probably because it was too dirty.
What did you think. After this, I will explain the production process.
I used plastic boards, plastic materials, and putty to improve the details and work in various places.
Remodeling the head. At first, Monoeye wanted to finish with H Eyes, but at the assembly stage, interference between H Eyes and the helmet was discovered. I ended up remodeling it in the painted state.
A missile pod that could not be attached to the shin due to an accidental mistake. It is a recovery by making an attachment to attach to the dowel hole of the waist armor.
The state of dirty painting. This time it was dirty and I got lost a lot, and as a result it was too dirty. It's difficult to find the right amount.
Since it's a big deal, I'd like to touch on the diorama as well. After making the drawings, the objects were fully scratched using plastic boards and plastic materials. The wire mesh uses a fine mold metal mesh.
The diorama base was made by laying lightweight paper clay, which is also available at 100-yen, on a blackboard frame that can be obtained at 100-yen.
Vehicles and figures are repainted miniatures for model railroads. Drums and wood are self-made. I also made a searchlight and a siren speaker to be attached to the watchtower, though not shown in the photo.
Here is the completed product like this. It was a production that left some issues in every aspect, but overall it was fun to work on.
Thank you for watching until the end!
Work by みっく
aka: mick_youkey on Twitter