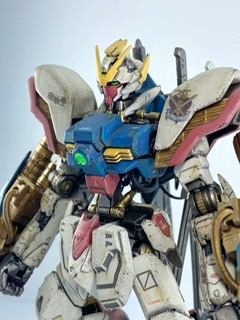 Custom build HGFC Shining Gundam Rebake: many images, modeler's info
From the Modeler:
I made it like a Gunpla that I use in GBN, created with the setting that Shining Gundam exists in the world of Iron-Blooded Orphans. The setting is close to Galbaldy Rebake, so the name follows that.
Front
By the way, there is no normal mode, always battle mode.
Back shot
At the beginning of the creation, I intended to keep the weathering modest, but when I noticed it, as usual …
I use shining shoulders, but I felt that it wouldn't fit the iron-blooded world if it was left as it was, so I tried to make it round with putty.
The arm cover and thruster are somewhat iron-blooded and large
Fighting pose (photo)
Two swords. This is equipped with two different shapes, following the shining of the original material.
And a large sword like a shining finger sword. Ahab reactor is piled up, so it has great power (small average feeling)
I made it with a Gundam frame and junk parts of a motorcycle plastic model.
And of course the shining fingers. Ahab reactor is also loaded on the arm cover, so it's probably very strong
Thank you for watching until the end.
Work by ハブヲ
aka: Amami_HabuO (Twitter account)