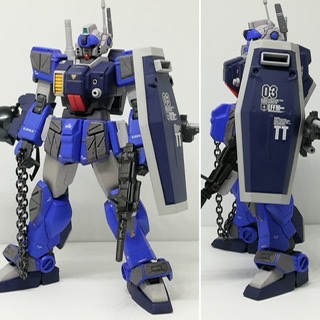 Custom build HGUC Ground battle type Gundam test team: wip, images, info
From the Modeler:
I made it with the intention of making my first set MS.
With the image of a unit that is testing strange equipment in a corner of the Jaburo arsenal. By mixing GM Striker and Ground Battle Gundam, I tried my best to equip it with a Gundam Hammer.
With a twin beam spear on your waist. Recently I like waist equipment too much.
TT is a test team.
The hammer mount is some kind of junk part. Builders parts? I can't remember.
Since it is a test team MS, it has a large antenna for sending and receiving data. So there is no horn. The forehead without horns is shaped with a plastic plate.
The wearable armor on the knee was then made up of plastic boards.
Work by: Momohiki0928